The Midshires Welfare/Rescue (Isabel North Fund)
CURRENTLY HAVE 5 CAT/S THAT WILL NEED URGENT RE-HOMING
——————
HOMES NEEDED

Young Siamese MN. 2 young Orientals both MN  are with the RSPCA in Worcester looking for homes you would need to contact them direct for more details

2 Mature Siamese  FN looking for a forever home together  contact siameserescue@btinternet.com for more details
——–—-———
Contact Helen
if your cat has Behaviour issues i can help or if he/she needs rehoming because he/she has behaviour problems I do this too. I re-educate them and other Rescues centres do use and ask for my advise on the Siamese breed. please contact Helen
If you would like to give a forever home to a Cat you will need to join our association, you will need a reference, from a vet or another cat club that is  affiliated with the GCCF. (i do deliver) or need your Siamese cat/s need to be re-homed (i do collect) within the Midlands can you please
e-mail msca2010@btinternet.com or msca2010@yahoo.com (with your details) or
call Helen Elliott on 0116 2892076 / 07742763434
giving me your name, telephone number and e-mail address,and if you have any other pets etc.
The Midshires is always compiling a list of people and their situations to fit the cat or cats to the right person.
Due to the way the Rescue works I rely on the previous owners being honest.
I do deliver and I Collect within the midland area please contact Helen as above.
We have a separate account for the welfare/rescue of cats – the Isabel North Fund. Donations to this fund are always welcome.
Donations to this fund will be much appreciated you can either donate by bank transfer 30-98-90 acc no: 17562668 directly into The Isabel North Fund or by clicking on the button below.    
   Thank you for your help.
OTHER WELFARE/RESCUES GROUPS THAT ARE OUT OF THE MIDLAND AREA.
Please don't use our e mail address above to contact these groups as they Run independently
Pauline Hart.Balinese Cat Society (also Siamese)
01633 601730 hartridgebalinese@live.co.uk /website
http://www.balinesecatsociety.co.uk
(Wales,Glos etc)
Mrs Catherine Moulton Sealpoint Siamese Cat Club
Tel: 01327 860788 http://www.sealpointsiamesecatclub.org
SCCWT : Mrs Niki Hill Tel:01473 830894 Not after 9pm please
Suffolk & Norfolk,Essex,East Anglia etc
Mrs Brigid Oakley Tel:020 8464 8857 Kent, London Surrey,Essex etc
Mrs D.Carrick The Siamese Cat Society of Scotland
Tel:01546 886392/website http://www.siamese-scotland.co.uk/welfare
3 Cats Still Missing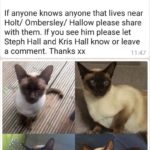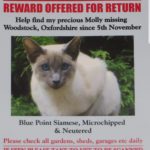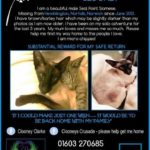 any information Contact Helen
---
THE GALLERY BELOW ARE JUST A FEW CATS THAT WE HELPED FIND THEIR FOREVER HOMES.